This hoya comes from the Philippines and it was described in 1990. It is often sold as Hoya odorata, which is said not to be in circulation. It's said that this hoyas was named after Dale Kloppenburgs daughter, Cembra Kloppenburg and the correct spelling should then be cembrae. At least, that's what I've read somewhere... Now there is "new" information that this hoya should be called odorata - AGAIN!! What a mess!!
This is a non twining hoya that needs help to stay put when grown on a support. The leaves are dark green, thin, 6-8.5 cm long and 1.5-2.5 cm wide. New leaves are mostly burgundy when young.
The flowers are white with yellow/pale green corona. Each umbel has between 2-8 cup shaped flowers, about 2.5-3 cm in size. The fragrance is strong, perfume like and the flowers last about 10 days.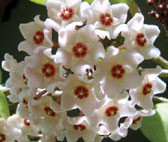 Read about how it all started
Why did I start collecting hoyas?

Private hoya links
Check out some of my favourite private hoya links from all over the world

Public hoya links
Here you will find public sites from all over the world, places to buy hoyas from etc.

Hoya forums
Here you will find links to different hoya forums on the internet.

Other great links
Here you will find links to search sites, garden sites, fun sites, crazy sites, and other "useful" sites.