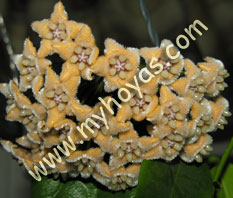 This hoya comes from Java and it was published in 1849. I have also read that it was lost for a long time, but was found in 1993 in Malaysia by Tony Lamb and Ted Green, who then thought they had found Hoya coriacea. Both hoyas are very similar and fraterna means brother.
This hoya is rather easy to grow, grows fast and is often described as a real beginners hoya and that it blooms early... The rather dark green leaves are thin and have prominent veins. They are 10 - 18 cm long and 4 - 8 cm wide.
De bakåtböjda blommorna är väldigt håriga, ca 2 cm stora innan de böjer bak kronbladen. Blommorna har gul (nästan lite orange) korolla med ljusgul korona och inne i koronan är en vit stjärna med lite rosa runt om... I en blomklase kan det sitta 30-50 (ibland fler!) blommor och doften beskrivs som övermogna bananer och det tycker jag stämmer ganska bra. Hållbarheten är ungefär 5-6 dagar.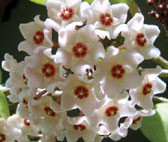 Read about how it all started
Why did I start collecting hoyas?

Private hoya links
Check out some of my favourite private hoya links from all over the world

Public hoya links
Here you will find public sites from all over the world, places to buy hoyas from etc.

Hoya forums
Here you will find links to different hoya forums on the internet.

Other great links
Here you will find links to search sites, garden sites, fun sites, crazy sites, and other "useful" sites.