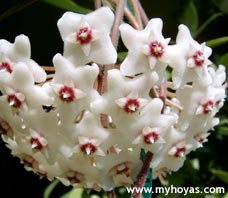 This hoya comes from China and it was described in 1934.
This is an easy to grow, twining, fast growing and fast blooming hoya that can be described as a beginners' hoya. It can get leaves as big as 20x12 cm, but normally they are 9-16 cm long and 6-9 cm wide. The leaves are dark green with darker veins and some flecks.
The flat flowers have white corollas, "dirty" white coronas with red centers. There can be up to 60 flowers in an umbel and each flower is about 1.5 cm, have a sweet fragrance and last about 10 days.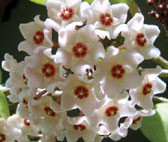 Read about how it all started
Why did I start collecting hoyas?

Private hoya links
Check out some of my favourite private hoya links from all over the world

Public hoya links
Here you will find public sites from all over the world, places to buy hoyas from etc.

Hoya forums
Here you will find links to different hoya forums on the internet.

Other great links
Here you will find links to search sites, garden sites, fun sites, crazy sites, and other "useful" sites.