This hoya comes from the Philippines and it was published in 1999. Hoya blashernaezii ssp. siariae was published by Kloppenburg in 2014 and ssp. valmayoriana was also published in 2014, by Guevarra & Carandang. Both siariae and valmayoriana had earlier their own names, but they were recently put in with Hoya blashernaezii.
At a first glance this hoya could be mistaken for bordenii or benguetensis if you only look at the leaves, but both bordenii benguetensis have wider and thicker leaves and they get nice red leaves when given a lot of sun. What blashernaezii look like in sun, I have no idea since I grow mine protected from the sun. The subspecies siariae stay green even when grown in full sun - at least it did when I had this hoya in my collection. The subspecies valmayoriana also gets nice red leaves if it's grown in sun. What these three hoyas have in common (besides part of the name) is that the leaves can be anything from 8-17 cm long, 2-4 cm wide and they have prominent veins but no spots.
Blashernaeziis and the subspecies siariaes flowers are cup shaped and about 1.2 cm in diameter and the colour is all yellow and a strange pink, almost transparent for the siariae where the corona is darker pink with a yellow center. There is anything from 10 to 25 flowers in an umbel. The flowers only last a couple of days and I haven't been able to detect any fragrance from them.
Blashernaezii ssp valmayorianas flowers have the same colours as the siariae, but the flowers are reflexed instead of being cup shaped and they look a bit smaller that way. You will find anything from 15 to 30 flowers in each umbel. They only last a few days and have no fragrance that I can detect.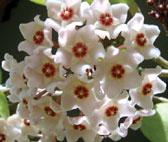 Read about how it all started
Why did I start collecting hoyas?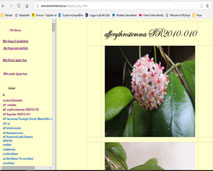 Private hoya links
Check out some of my favourite private hoya links from all over the world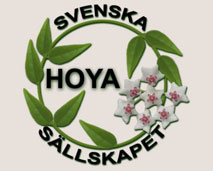 Public hoya links
Here you will find public sites from all over the world, places to buy hoyas from etc.

Hoya forums
Here you will find links to different hoya forums on the internet.

Other great links
Here you will find links to search sites, garden sites, fun sites, crazy sites, and other "useful" sites.