If you want to read about a specific hoya, click on the photo and you will be taken to another page. Some photos might take you to the same page, since some are just varieties of that species. Enjoy the photos and hopefully also the reading! (If you find anything that you might think is wrong, or if I have forgotten something, let me know.)

Hoya ignorata NS10-004

Hoya ilagiorum

Hoya imbricata

Hoya imperialis

Hoya inconspicua

Hoya incrassata

Hoya incrassata (variegata)
Hoya incrassata (margin white)
Hoya inflata
Hoya aff. incurvula (sp. ETS 86 GPS 10069)
Hoya 'Iris Marie'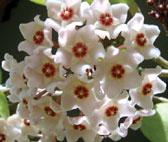 Read about how it all started
Why did I start collecting hoyas?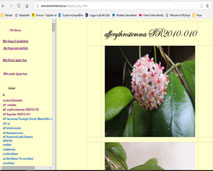 Private hoya links
Check out some of my favourite private hoya links from all over the world

Public hoya links
Here you will find public sites from all over the world, places to buy hoyas from etc.

Hoya forums
Here you will find links to different hoya forums on the internet.

Other great links
Here you will find links to search sites, garden sites, fun sites, crazy sites, and other "useful" sites.