If you want to read about a specific hoya, click on the photo and you will be taken to another page. Some photos might take you to the same page, since some are just varieties of that species. Enjoy the photos and hopefully also the reading! (If you find anything that you might think is wrong, or if I have forgotten something, let me know.)

Coming soon...

Hoya macgillivrayi 'Langkelly Creek Qld'
Hoya macgillivrayi 'Pandanus Creek Qld'
Hoya macgillivrayi aff. superba IML 0458

Hoya macgillivrayi x Hoya archboldiana ('Rain Forest')

Hoya macrophylla (albomarginata)

Hoya magnifica

Hoya magnifica IML 0152

Hoya magnifica var WMZ
Hoya manipurensis
Hoya 'Mathilde' (carnosa x serpens)
Hoya megalantha NS-05-038
Hoya megalaster
Hoya megalaster IML 1098
Hoya meliflua ssp. fraterna
Hoya memoria
Hoya meredithii GPS 1105 (Large Leaf)
Hoya merrillii IML 0850
Hoya 'Metallica' (sp. Laos x H. vitellina)
Hoya micrantha
Hoya microphylla
Hoya microstemma
Hoya minahassae GPS 8816
Hoya mindorensis
Hoya mindorensis subsp. mindorensis
Hoya mindorensis ssp. Superba IML 0768 (Hoya elmeri)
Hoya mindorensis Poring Sabah IML 1777
Hoya 'Minibelle' (shepherdii x carnosa)
Hoya mirabilis (sp. SR-2008-001, from Khao Laem)
Hoya mitrata
Hoya monetteae IML 1774
Hoya montana
Hoya motoskei
Hoya multiflora
Hoya multiflora (albomarginata)
Hoya multiflora 'Speckles' GPS 10110
Hoya multiflora SV406
Hoya myrmecopa IML 1375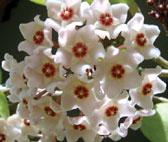 Read about how it all started
Why did I start collecting hoyas?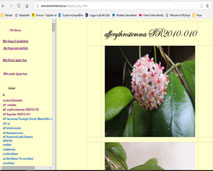 Private hoya links
Check out some of my favourite private hoya links from all over the world

Public hoya links
Here you will find public sites from all over the world, places to buy hoyas from etc.

Hoya forums
Here you will find links to different hoya forums on the internet.

Other great links
Here you will find links to search sites, garden sites, fun sites, crazy sites, and other "useful" sites.