I thought I would dedicate this page to my pets. I have a new cat now, after my beloved 12 year old cat whom I had to put to sleep after 1.5 year of cancer, but he will never be forgotten. My new cat is the sweetest, so keep coming back to this page for more and more photos of him! Oh, I mustn't forget my dog Tofflan... unfortunately I had to put her to sleep in April this year so she never got to be 12 years old... She was cuddly, calm and sweet and had tons of patience with my old cat and later also with Simpson and his mischief! My new cat Simpson moved in on Tofflans birthday in July 2005 and he's the only pet I have at the moment...

If you want to see some photos of some fun in the snow, click here:

If you want to see photos of either one of them, click on the pictures below and you will be taken to another page with more photos... Enjoy the photos, and if you have any comments, let me know...

Some links to other animal sites: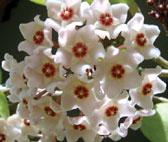 Read about how it all started
Why did I start collecting hoyas?

Private hoya links
Check out some of my favourite private hoya links from all over the world

Public hoya links
Here you will find public sites from all over the world, places to buy hoyas from etc.

Hoya forums
Here you will find links to different hoya forums on the internet.

Other great links
Here you will find links to search sites, garden sites, fun sites, crazy sites, and other "useful" sites.