This hoya comes from the Philippines and it was described in 1906.
Another hoya that is best grown on a support. It needs some help to stay on its own support, but this is not a big problem since it doesn't grow very fast. Cuttings can take long before they start growing, but this foliage is worth waiting for! The narrow leaves are 10-18 cm long and 3-5 cm wide. The leaf edges are curved inwards and the underside is often red. The prominent veins on these often red leaves make the foliage even prettier!
The flowers are reflexed, about 2 cm, dark red with even darker coronas and you'll find about 15 flowers in an umbel. The flowers only last a few days, but that's compensated by frequent flowers during the summer. At least, that's what I've read...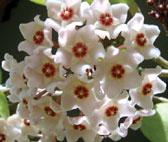 Read about how it all started
Why did I start collecting hoyas?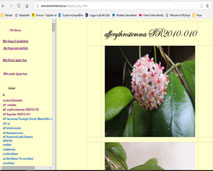 Private hoya links
Check out some of my favourite private hoya links from all over the world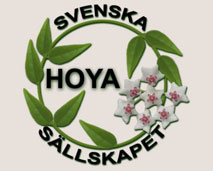 Public hoya links
Here you will find public sites from all over the world, places to buy hoyas from etc.

Hoya forums
Here you will find links to different hoya forums on the internet.

Other great links
Here you will find links to search sites, garden sites, fun sites, crazy sites, and other "useful" sites.