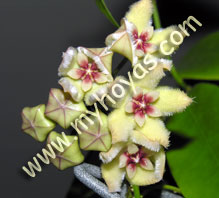 This hoya comes from the Philippines and it was described in 2002. I have read somewhere that this should be Hoya halconensis (Schlechter ex Kloppenburg), but I've also read that the one that's called sp. NS00-009 should be halconensis...
Hoya buotii is related to Hoya coriacea, but a lot smaller. The leaves are 4-7 cm long, 2-4 cm wide and visible veins. The center vein is lowered. This is a hoya that is best grown on a support since it twines some on its own.
The flowers are somewhat cupshaped / almost flat, about 2 cm. The very hairy flowers have yellow corolla and the corona is white with red in the middle. You'll find 8-10 flowers in an umbel. The flowers last about 5 days, produce no nectar and have a light fragrance of vanilla combined with something spicy. Hard to describe - better to experience!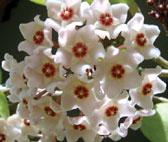 Read about how it all started
Why did I start collecting hoyas?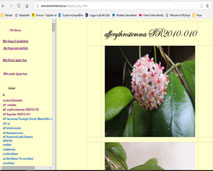 Private hoya links
Check out some of my favourite private hoya links from all over the world

Public hoya links
Here you will find public sites from all over the world, places to buy hoyas from etc.

Hoya forums
Here you will find links to different hoya forums on the internet.

Other great links
Here you will find links to search sites, garden sites, fun sites, crazy sites, and other "useful" sites.