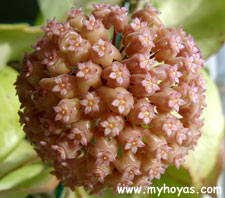 This hoya comes from Papua New Guinea and it was described in 1984. Or rather, the name Hoya chunii was published in 1984 by P. T. Li. A synonym for Hoya chunii is Hoya reticulata. Whatever the real name is for this hoya it's a gorgeous hoya!
This is a very nice hoya, but if it is grown in too much sun it can get sun damages such as dark red spots. The leaves are 8-15 cm long, 5-10 cm wide, have nice visible veins and the leaves can get a little wavy around the edges. New leaves and new vines are often very dark red but they get green as they mature.
Now that I know what hoya it is that I have, I've read that it's a hoya that blooms both often and willingly... THAT is something my plant hasn't learned! The flowers are well worth waiting for! They are peach coloured (brownish peach) and the corona is light pink... There are many (up to 60) flowers in each umbel, but the reflexed flowers are only about 6 mm in diameter when fully reflexed. The flowers last 3-4 days and they have a pleasant but indescribable fragrance.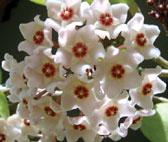 Read about how it all started
Why did I start collecting hoyas?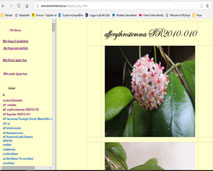 Private hoya links
Check out some of my favourite private hoya links from all over the world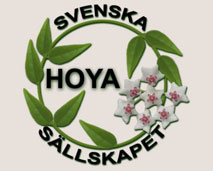 Public hoya links
Here you will find public sites from all over the world, places to buy hoyas from etc.

Hoya forums
Here you will find links to different hoya forums on the internet.

Other great links
Here you will find links to search sites, garden sites, fun sites, crazy sites, and other "useful" sites.