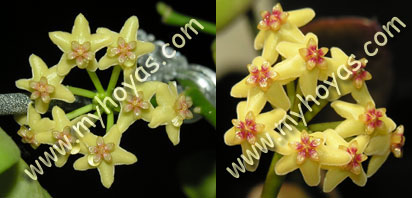 This hoya comes from the Biak Island in Indonesia. I've seen it called Hoya sp. Biak, Hoya sp. Biakensis, Hoya sp. NG Biakensis, Hoya sp. New Biak Island and probably a few other variations... I've kept the name it came with. To add to the confusion I've been informed that this hoya is a variety of Hoya collina... Then there's yet another variety of collina and it's sold as Hoya sp. IR 26 and in general I find this variety prettier.
It seems to be a hoya that can be grown either hanging or wrapped around a support., but on a support you need to force it around to maintain a nice plant. The leaves are 2.5-4 cm long and 2.5-3 cm wide. The leaves are rather thick, mostly all green on sp. Biak, but some leaves are spotted and it seems they can be really spotted too judging by photos I've seen. Over the years I have noticed that if it gets too much sun the leaves tend to get a little pale.
My other plant sp. IR 26 has leaves that can take full sunshine. I have mine (now) hanging in a sunny southern window without any protection. The leaves are nicely red and get quite a few flecks. A really nice hoya even without flowers!
The flowers on sp. Biak are yellow with yellowish white coronas. They are about 1 cm and almost flat, somewhat reflexed. There are 8-15 flowers in an umbel and the fragrance is like faint butterscotch. It is said to be an easy bloomer, but mine took more than five years to bloom. However, after that it hasn't stopped blooming! IR 26 has a little more red in the middle of the corona and the corolla is more yellow, but that can be due to the different positions/variations of light.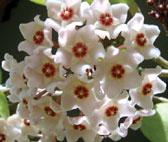 Read about how it all started
Why did I start collecting hoyas?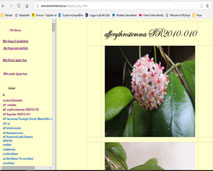 Private hoya links
Check out some of my favourite private hoya links from all over the world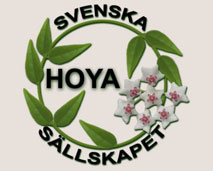 Public hoya links
Here you will find public sites from all over the world, places to buy hoyas from etc.

Hoya forums
Here you will find links to different hoya forums on the internet.

Other great links
Here you will find links to search sites, garden sites, fun sites, crazy sites, and other "useful" sites.