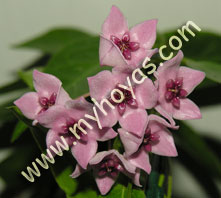 This hoya comes from the Solomon Islands and it was published in 1993.
This is a hoya with rather thin leaves, but even though they are thin they can stand to get sort of dry from time to time. It is best grown on a support and even though it's a fast grower the support doesn't have to be the largerst there is... The leaves are dark green with very nice veining. The rather pointy leaves are 3-8 cm long and 1.5-3 cm wide. It seems to like being grown a little cooler, but if it's grown warmer I would guess it needs much more water.
The flowers are lovely pink with darker pink corona. Each almost flat flower is about 2 cm and you'll find 5-15 flowers in each umbel. The flowers produce no nectar, has a very weak smell and they last up to one week.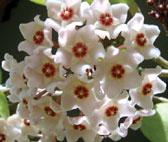 Read about how it all started
Why did I start collecting hoyas?

Private hoya links
Check out some of my favourite private hoya links from all over the world

Public hoya links
Here you will find public sites from all over the world, places to buy hoyas from etc.

Hoya forums
Here you will find links to different hoya forums on the internet.

Other great links
Here you will find links to search sites, garden sites, fun sites, crazy sites, and other "useful" sites.