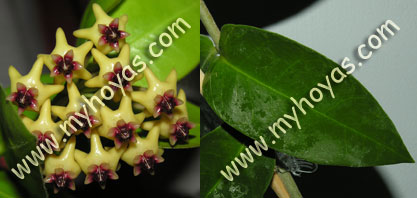 This hoya comes from Java, but it has also been found in the Philippines and it was described in 1848.
This is a hoya that has an upright shrub like growth and it needs help to stay on its support. It could be grown in a hanging pot, but to me it seems a little "stiff"... It has been said that this hoya and Hoya golamcoiana are synonyms to Hoya cumingiana, but until this is certain I will let Hoya densifolia keep its name and its own page here.
The leaves are 3-6 cm long and 2-4 cm wide. The leaves remind of cumingiana but they are larger and have more of a pointy tip. Besides that, densifolia has a more prominent mid vein and you can also see the other veins. When it comes to colour, I think densifolia has darker leaves than cumingiana, but the same colour as golamcoiana. If all of these are the same or not... Younger leaves on densifolia are lighter green and you can also clearly see that they are a little pubescent.
The flowers seem (just like on cumingiana) to grow at the tips of the vines and the colour is yellow, sometimes closer to green and they have a red center. Each umbel has 10-20 reflexed flowers, about 1.5 cm and from what I have read, a fragrance like cumingiana; i e citrus mixed with coconut. They last about a week and have very little nectar. The peduncles fall off after each flowering.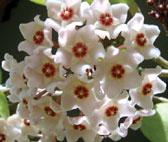 Read about how it all started
Why did I start collecting hoyas?

Private hoya links
Check out some of my favourite private hoya links from all over the world

Public hoya links
Here you will find public sites from all over the world, places to buy hoyas from etc.

Hoya forums
Here you will find links to different hoya forums on the internet.

Other great links
Here you will find links to search sites, garden sites, fun sites, crazy sites, and other "useful" sites.