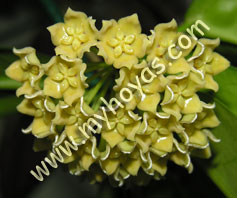 This hoya comes from New Guinea and it was published in 1898. Hoya flavescens is said to be the same hoya.
This is a hoya of which you will find little information on the internet. In one place I read that this hoya might be the same as Hoya ischnopus and in another one that it might be the same as dischorensis. Whatever it's correct name is it's a rather nice hoya. Even Hoya montana looks very much like this one...
The leaves are 8-11 cm long, 3.5-5 cm wide. Older leaves are rather dark green with even darker visible veins, and younger leaves are lighter green and sort of shiny. New leaves tend to get red from the sun. It seems to be a slow grower.
The almost flat flowers have mostly yellow, but sometimes more peachy corollas and the corona is also mostly yellow, but can have a little red in the center (when more peachy). You'll find 15-25 flowers in an umbel and each flower measures about 1-1.5 cm in diameter and seems to produce little nectar. The flowers last about 4-5 days and had only a very vague undiscribable fragrance.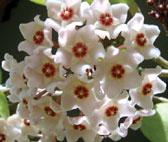 Read about how it all started
Why did I start collecting hoyas?

Private hoya links
Check out some of my favourite private hoya links from all over the world

Public hoya links
Here you will find public sites from all over the world, places to buy hoyas from etc.

Hoya forums
Here you will find links to different hoya forums on the internet.

Other great links
Here you will find links to search sites, garden sites, fun sites, crazy sites, and other "useful" sites.