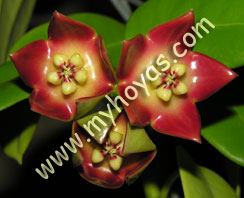 This one comes from Indonesia and it was published in 2001 as an Eriostemma, but when it belonged to the Hoyas it was published in 1844. According to a Hoya magazine this one is said to be the same as Eriostemma gigas, but other experts this is wrong... So what's really correct remains to be known!
The Eriostemmas are not too easy to get to bloom. Unless you live in Hawaii...! It has light green leaves about 6-10 cm long, 4-6 cm wide and have a "sunken" center vein. It's a fast grower and best grown on a large support.
The flowers are mostly cup shaped, but I've also seen photos where they are more flat and sort of folded back. It's said to be up to 10 flowers in an umbel, but mostly it's less. Each flower is 5 cm in diamater and the corolla is red with lighter / yellowish center and the corona is yellow. The fragrance has been described as "strong musk odour" and this seems to be true. Mine bloomed in January 2013 and when I walked into the room where this plant is it was like walking into a sweaty gym! The flowers lasted more than two weeks before they started wilting.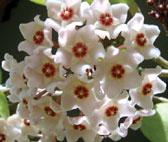 Read about how it all started
Why did I start collecting hoyas?

Private hoya links
Check out some of my favourite private hoya links from all over the world

Public hoya links
Here you will find public sites from all over the world, places to buy hoyas from etc.

Hoya forums
Here you will find links to different hoya forums on the internet.

Other great links
Here you will find links to search sites, garden sites, fun sites, crazy sites, and other "useful" sites.