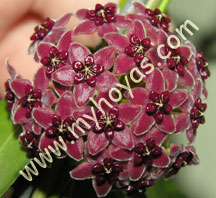 This hoya comes from Papua New Guinea and it was described in 1898. Or rather, the name Hoya lamingtoniae was published in 1898 by F. M. Bailey.
This is not a very fast growing hoya, at least not for me. It is best suited for growing on a support, but it doesn't twine on its own so it's easy to handle and maintain around a support. The leaves are dark green with visible veins, about 6-9 cm long and 2.5-4 cm wide. New leaves are nicely redbrown at first. It can be a bit fuzzy if it dries out too much, but it can tolerate some. It likes bright light, but not direct sunshine.
The flowers are really beautiful! They have dark burgundy corolla and the corona is even darker with a yellow center. The size of each flower is about 1.5 cm and you'll find 10-25 flowers in an umble. The fragrance is weak and the flowers, which don't produce any nectar, last about 4-5 days.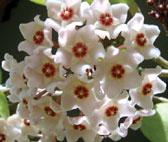 Read about how it all started
Why did I start collecting hoyas?

Private hoya links
Check out some of my favourite private hoya links from all over the world

Public hoya links
Here you will find public sites from all over the world, places to buy hoyas from etc.

Hoya forums
Here you will find links to different hoya forums on the internet.

Other great links
Here you will find links to search sites, garden sites, fun sites, crazy sites, and other "useful" sites.