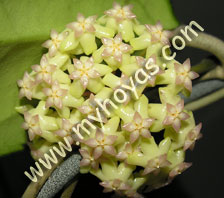 Hoya 'Joy' is a suspected cross between an unidentified species from Laos (Hoya sp. Laos) and Hoya vitellina, hybridized by Michael Miyashiro in Hawaii. Hoya 'Joy' has a sister who is known and sold as Hoya 'Metallica', but these are two diffrent seedlings.
The quite shiny slightly recurved leaves are a little bumpy on top and you can "feel" the veins, but the underside is a little fuzzy. They are light green to dark green with dark edges and when grown in bright light/sunshine they get a nice red colour, but the veins remain green making this foliage absolutely gorgeous! They have some flecks and the size of the leaves vary between 8-17 cm long and 5-11 cm wide. So far, but they say this hoya can get really big leaves!
The reflexed flowers have greenish yellow corollas and pink coronas. The size of the flowers is about 1 cm and you'll find 20-30 flowers in an umbel. The flowers last only a few days and they have a rather pleasant fresh fragrance, but sometimes with a hint of typical vitellina smell (!).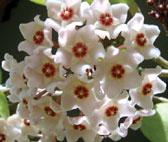 Read about how it all started
Why did I start collecting hoyas?

Private hoya links
Check out some of my favourite private hoya links from all over the world

Public hoya links
Here you will find public sites from all over the world, places to buy hoyas from etc.

Hoya forums
Here you will find links to different hoya forums on the internet.

Other great links
Here you will find links to search sites, garden sites, fun sites, crazy sites, and other "useful" sites.