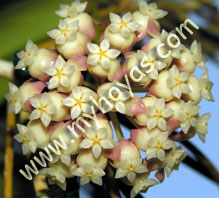 This hoya comes from the Philippines and it was described in 2002. It's most commonly seen as Hoya juannguoiana, but I recently found out this hoya should be spelled without the i... The name is in honour of Ju Ann Guo.
This hoya can get rather big with time and it's best grown on a larger support. It twines quite easy on its own.
The leaves on this hoya vary a lot in size. Anywhere between 8-22 cm long and 4-10 cm wide. These leaves sometimes vary in different green colours and have some flecks. The leaves are "folded" a little along the center vein. These leaves are quite shiny, somewhat curved and can get really big. The foliage on this hoya is really beautiful, at least in my opinion. The underside of these leaves are lighter green than on the upper side.
The flowers on this hoya are about 8-9 mm and reflexed. The corolla lobes are white/beige and have pink/redish tips and the corona is white. These flowers have a very strong fragrance. It's hard to describe the fragrance, but it's mostly on the spicy side... I find this fragrance rather nice, but when there are many umbels at the same time it can be a little too strong! In one umbel there can be anywhere from 20 up to 50 flowers. The flowers last about 3-4 days.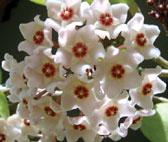 Read about how it all started
Why did I start collecting hoyas?

Private hoya links
Check out some of my favourite private hoya links from all over the world

Public hoya links
Here you will find public sites from all over the world, places to buy hoyas from etc.

Hoya forums
Here you will find links to different hoya forums on the internet.

Other great links
Here you will find links to search sites, garden sites, fun sites, crazy sites, and other "useful" sites.