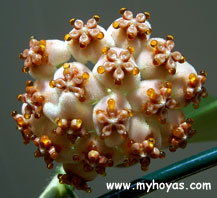 This hoya comes from Thailand, Laos and Cambodia and it was described in 1911.
This is a hoya that needs a lot of space, but it grows relatively slowly so this is normally not a problem. The leaves are thick, heart shaped, about 9-12 cm long and 7-9 cm wide. The colour is dark green and ligther underneath. There also seems to be one with fuzzy leaves...
The flowers are reflexed, pale pink with darker pink coronas. Each flower is about 1.5 cm and produces lots of orange/brown nectar. In each umbel there are 15-30 flowers. The flowers last almost two weeks and have a vague smell that can be closest described as chlorine.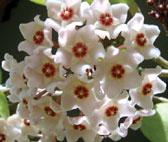 Read about how it all started
Why did I start collecting hoyas?

Private hoya links
Check out some of my favourite private hoya links from all over the world

Public hoya links
Here you will find public sites from all over the world, places to buy hoyas from etc.

Hoya forums
Here you will find links to different hoya forums on the internet.

Other great links
Here you will find links to search sites, garden sites, fun sites, crazy sites, and other "useful" sites.