This hoya comes from the Philippines and it was published in 2009. At first this hoya was known as Hoya lacunosa (heart leaf), but later it got its own name, which it got after Philip Krohn.
Hoya krohniana is very much like Hoya lacunosa and most suitable for growing hanging. So far there are two varieties of this hoya, one with leaves that only have few flecks and one that is more or less completely spotted. The heart shaped leaves are 1.5-3.5 cm long and 1.5-2.5 cm wide with raised nerves, especially the vein in the middle. The variety with spotted leaves has the addition of 'Eskimo' in its name and the leaves on this are only 1-2,5 cm long and 1-1.5 cm wide. This hoya is, just like the lacunosa, very easy to grow and if you pot several cuttings in a the same pot you will soon have a nice plant.
The revolute and fuzzy flowers are creme coloured, almost white, aobut 8 mm in diameter and you'll find about 15-25 flowers in an umbel. This hoya flowers quite often once it has started and the perfume like fragrance can fll a whole room at night. The flowers last about 4-5 days and produce very little nectar.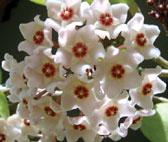 Read about how it all started
Why did I start collecting hoyas?

Private hoya links
Check out some of my favourite private hoya links from all over the world

Public hoya links
Here you will find public sites from all over the world, places to buy hoyas from etc.

Hoya forums
Here you will find links to different hoya forums on the internet.

Other great links
Here you will find links to search sites, garden sites, fun sites, crazy sites, and other "useful" sites.