This hoya comes from north eastern India and it was described in 1883.
It grows like Hoya polyneura, so either hanging or wrapped around a support would suit this hoya. There are quite a few varieties of this hoya in circulation. Some have leaves that aren't among the prettier ones and some have quite nice leaves. They are mostly dark green, about 8-15 cm long, 2-6 cm wide and have some flecks.
The not so pretty leaves are compensated by the absolutely gorgeous flowers, which have anything from light red to really dark red (almost black) corollas, darker red coronas with yellow centers. Each flower is reflexed, about 2 cm and you'll find 10-20 flowers in each umbel. The flowers last about 10 days and if you put your nose into it you'll detect a weak sort of sweet fragrance. The AP1036 has a weak and not too pleasant smell...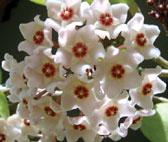 Read about how it all started
Why did I start collecting hoyas?

Private hoya links
Check out some of my favourite private hoya links from all over the world

Public hoya links
Here you will find public sites from all over the world, places to buy hoyas from etc.

Hoya forums
Here you will find links to different hoya forums on the internet.

Other great links
Here you will find links to search sites, garden sites, fun sites, crazy sites, and other "useful" sites.