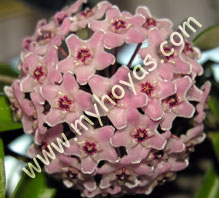 Hoya 'Minibelle' is a cross between Hoya shepherdii and Hoya carnosa. It is named after the hybridizer's wife Minibelle Hummel. There is also a sister seedling to 'Minibelle' and it's called 'Shepherdell'.
The long narrow leaves have inherited both parents charm, i e the length of shepherdii and the flecks from carnosa. The leaves are 10-12 cm long and about 2 cm wide. If this hoya is grown a little darker the leaves can get to be over 20 cm long, dark green and the flecks are more prominent. I have seen such a plant - really gorgeous, but I think he said it had never bloomed...
The flat flowers are mostly light pink with darker pink a little here and there, sometimes it looks almost striped. The corona is white with red center. Each flower is about 2 cm and you'll find 15-20 flowers in an umbel. The flowers have a pleasant fragrance that mostly reminds of shepherdii, but not as strong. They last about a week.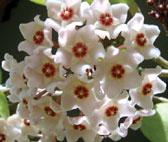 Read about how it all started
Why did I start collecting hoyas?

Private hoya links
Check out some of my favourite private hoya links from all over the world

Public hoya links
Here you will find public sites from all over the world, places to buy hoyas from etc.

Hoya forums
Here you will find links to different hoya forums on the internet.

Other great links
Here you will find links to search sites, garden sites, fun sites, crazy sites, and other "useful" sites.