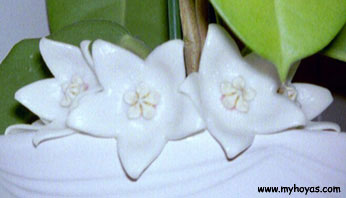 This hoya comes from Papua New Guinea and it was described in 1992.
It belongs to the same group as Hoya albiflora, Hoya calycina, Hoya australis and some others that I don't know the names of.
It has big, fuzzy leaves, about 13-16 cm long and 6-8 cm wide. It's a fast grower, twines quite well and likes some limestone added to the soil mix.
The flowers are spectacular - to LOOK at! They are almost completely white with only a little red under the white corona. The flowers are somewhat cup shaped, about 4-5 cm each, last (unfortunately!) almost two weeks and smells like a stable! At least, that's my experience of the flowers, but I've heard others say they find the fragrance pleasant... There can be up to 25 flowers in each umbel, but more common is 10-20.
I will upload better pictures of the flowers as soon as mine has flowered again... Which could be sooner than I think, because there are two peduncles with small buds on the way! Buds falling off every time, but - some day!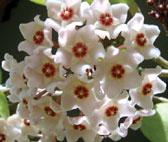 Read about how it all started
Why did I start collecting hoyas?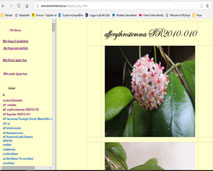 Private hoya links
Check out some of my favourite private hoya links from all over the world

Public hoya links
Here you will find public sites from all over the world, places to buy hoyas from etc.

Hoya forums
Here you will find links to different hoya forums on the internet.

Other great links
Here you will find links to search sites, garden sites, fun sites, crazy sites, and other "useful" sites.