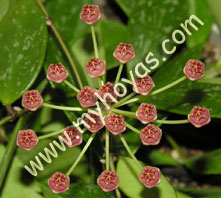 This hoya comes from the Philippines and it was described in 2004. Before it was published it was sold as Hoya gracilis for many years and occationally it shows up as such even now. It seems it's named after The Memorial Garden in Manilla.
This is a hoya that can be grown on a support or hanging, but since it doesn't twine on itselt it needs help to stay on the support. As a hanging plant it's usually really easy... The narrow leaves are 4-6 cm long, 1,5-2 cm wide and have quite a lot of small spots. New leaves are sometimes a little red/brown, but turn green as they mature.
The flowers have pink, alomst old pink corolla and the corona is red with yellow center and tips. Each ball-shaped flower is 5 mm and you'll find 15-25 flowers in an umbel. The flowers have a sweet caramel scent, produce little nectar and last up to one week.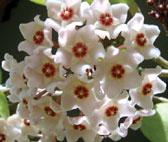 Read about how it all started
Why did I start collecting hoyas?

Private hoya links
Check out some of my favourite private hoya links from all over the world

Public hoya links
Here you will find public sites from all over the world, places to buy hoyas from etc.

Hoya forums
Here you will find links to different hoya forums on the internet.

Other great links
Here you will find links to search sites, garden sites, fun sites, crazy sites, and other "useful" sites.