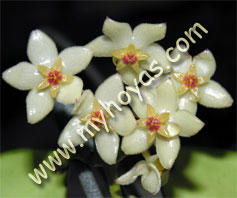 This hoya comes from Sulawesi and was collected on the Lake Poso side of the Tineba Mountains and it was described in 2001 in Blumea, volume 46/3 by R. van Donkelaar and D. Kleijn. There is another clone with the number 8875 and it's said to be named by David Liddle.
The leaves are 5-11 cm long and 3-4 cm wide and only the center vein is visible. The leaves are very plain when grown in a shadier place, but if you grow this hoya in a little sunshine the leaves get nice red edges and sometimes the foliage gets more or less red. Really nice!
The flowers are about 2 cm and almost flat. The corolla is a dirty white to pale yellow and the corona is yellow with a red center. They produce lots of nectar and the fragrance is lovely, but hard to describe. Closest I can get is fresh with hints of citrus flowers.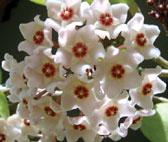 Read about how it all started
Why did I start collecting hoyas?

Private hoya links
Check out some of my favourite private hoya links from all over the world

Public hoya links
Here you will find public sites from all over the world, places to buy hoyas from etc.

Hoya forums
Here you will find links to different hoya forums on the internet.

Other great links
Here you will find links to search sites, garden sites, fun sites, crazy sites, and other "useful" sites.