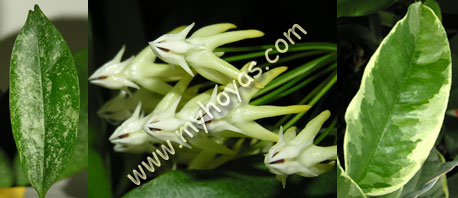 This hoya comes from Malaysia and the Philippines and it was described in 1823. I have read that the one sold as multiflora should be called javanica, but the one sold as multiflora 'Speckles' is said to be the true multiflora...? Until I know more I'll leave it like this...
Hoya multiflora has a compact, upright, shrubby growth and doesn't branch on its own. Cutting the top off promote branching. The leaves are 8-14 cm long, 2.5-5 cm wide, thin, dark green with visible veins and some flecks. It's one of the easiest hoyas to grow, IF given plenty of water...
There are a few different clones of Hoya multiflora. One has green leaves with only a few flecks, one has very flecked leaves, one has narrower leaves... The flowers differ some in shape and colour too and I guess I'll know more about that when my plants bloom.
Just like the name indicates, it flowers a lot and often, multi = many and flora = flower. The flowers have white coronas and yellow/white reflexed corollas, a few clones have more orange flowers. There can be up to 40 of these rocket like flowers in an umbel and they produce lots of nectar. The flowers are about 2 cm and last up to 12 days. Sometimes it flowers from the same peduncle again, but normally this hoya drops them after flowering. The flowers have a vague lemon like smell if you stick your nose into them. Especially late at night or early in the morning...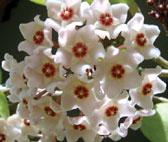 Read about how it all started
Why did I start collecting hoyas?

Private hoya links
Check out some of my favourite private hoya links from all over the world

Public hoya links
Here you will find public sites from all over the world, places to buy hoyas from etc.

Hoya forums
Here you will find links to different hoya forums on the internet.

Other great links
Here you will find links to search sites, garden sites, fun sites, crazy sites, and other "useful" sites.