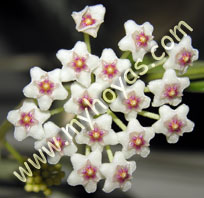 This hoya comes from Camboida and Laos and it was published in 1912.
This is a rather slow growing hoya which is best gronw hanging, but I think it would work on a support too though it needs a little help to stay on there... The slightly pubescent leaves are medium green, 2.5-5 cm long and 2-3 cm wide. The leaves are soft and rather thin when young but thicken/harden with age and they have some flecks and no visible veins. The name is said to mean small coin, but only a few of the leaves on my plant are round like coins.
The flat flowers are quite small, only about 6-7 mm in diameter. They have white corollas and the coronas is pink with white tips, have a fragrance that is sweet and quite strong but nice. You'll find 10-30 flowers in each umbel and they last about a week. This hoya often drops its peduncles after flowering. There is also a variety that has yellow instead of pink in the corona.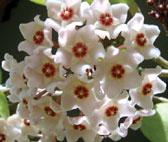 Read about how it all started
Why did I start collecting hoyas?

Private hoya links
Check out some of my favourite private hoya links from all over the world

Public hoya links
Here you will find public sites from all over the world, places to buy hoyas from etc.

Hoya forums
Here you will find links to different hoya forums on the internet.

Other great links
Here you will find links to search sites, garden sites, fun sites, crazy sites, and other "useful" sites.