I got this hoya in a trade I made in May 2012. I was going to trade with a guy in Thailand and it was the first time I was sending hoyas to Thailand, so it was a bit nervous. I got mine one day before he got his and they were all in quite good condition. This is definately something I would consider doing again.
There were three hoyas in the box and this cross (hybrid) was one of them. I "fell" for it when I saw the name in the guys list. I didn't know anything about it, but I still wanted it. About one week before shipment I saw some photos of an absolutely wonderful hoya (without name), a suspected cross between parasitica and obovata. I wrote to the guy who posted the photo and after a few messages back and forth we realized I was going to get this hoya in the trade I was about to make. Sometimes even the hoya world is small!
My cutting grew well at first, but then it stopped... but, what does that matter when it blooms quite often instead??!! The first time was in May 2013 so I guess this one qualifies as an early bloomer.
To view any of the pictures on this page bigger, click on them and they will open up in new windows.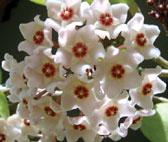 Read about how it all started
Why did I start collecting hoyas?

Private hoya links
Check out some of my favourite private hoya links from all over the world

Public hoya links
Here you will find public sites from all over the world, places to buy hoyas from etc.

Hoya forums
Here you will find links to different hoya forums on the internet.

Other great links
Here you will find links to search sites, garden sites, fun sites, crazy sites, and other "useful" sites.