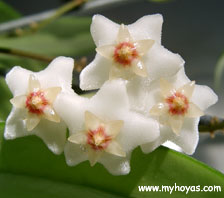 This hoya comes from China and it was described in 1974. It has been confirmed that the hoya in circulation as Hoya salweenica is not salweenica, but until this hoya gets a new name I'll keep it here...
The leaves are light green, narrow with visible center vein, 8-16 cm long and 2-4 cm wide. The leaves are thick and this hoya has clear sap. Some say this is a hoya best grown hanging, but I have mine on a support and it has grown really well.
The flowers on this hoya look very much like the ones on Hoya carnosa and they have white corolla, pale yellow corona with a pink center. The flowers are flat, about 1.5 cm and there are normally 10-20 flowers in an umbel. The flowers last about 10 days and have a sweet fragrance.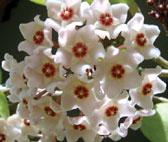 Read about how it all started
Why did I start collecting hoyas?

Private hoya links
Check out some of my favourite private hoya links from all over the world

Public hoya links
Here you will find public sites from all over the world, places to buy hoyas from etc.

Hoya forums
Here you will find links to different hoya forums on the internet.

Other great links
Here you will find links to search sites, garden sites, fun sites, crazy sites, and other "useful" sites.