I got this hoya in a trade in September 2002. It quickly grew into a nice little plant, but I had placed it where it got too much sunshine so the leaves got very yellow and I had to renew the plant after the summer of 2003. Since then it has grown well and at one point I thought it grew a peduncle, but whatever it was it fell off...
At the end of July 2006 I finally got to see the flowers! They were more discrete than I had expected, but oh so cute. Since then it bloomed three more times in a short time so I guess it tried to make up for all the flowerless years... In 2008 I sold my plant before I moved to an apartment and had much less hoya space.
To view any of the pictures on this page bigger, click on them and they will open up in new windows.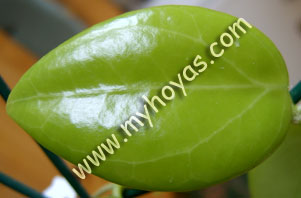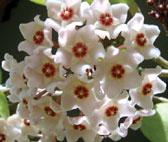 Read about how it all started
Why did I start collecting hoyas?

Private hoya links
Check out some of my favourite private hoya links from all over the world

Public hoya links
Here you will find public sites from all over the world, places to buy hoyas from etc.

Hoya forums
Here you will find links to different hoya forums on the internet.

Other great links
Here you will find links to search sites, garden sites, fun sites, crazy sites, and other "useful" sites.