I bought this hoya as a nice little plant in July 2004 in a grocery store. Really cheap too for that matter! This is normally not a hoya that I would buy, but since it didn't cost that much I thought I would give it a try since I knew it wasn't easy to grow... First I had it next to a window in the west and that's where the two umbels it came with opened up at the end of July. After these flowers were gone it started to get some yellow leaves and the tips of the vines started to dry out... I thought it was too warm for it so I moved it to the bedroom right next to the window, but it was the same thing there. Finally I made room for it in our bedroom window where the window always was a little open all year round. It stopped yellowing and the tips stopped drying up. It flowered a lot during this summer, but after that something happened... I guess I forgot to water it one too many times, because it started dying...
The flowers are really cute, so it's a hoya worth trying to grow!
To view any of the pictures on this page bigger, click on them and they will open up in new windows.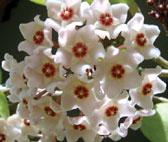 Read about how it all started
Why did I start collecting hoyas?

Private hoya links
Check out some of my favourite private hoya links from all over the world

Public hoya links
Here you will find public sites from all over the world, places to buy hoyas from etc.

Hoya forums
Here you will find links to different hoya forums on the internet.

Other great links
Here you will find links to search sites, garden sites, fun sites, crazy sites, and other "useful" sites.