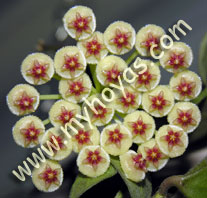 This hoya comes from Borneo (Sarawak) and it was described in 2002. After my own observations this hoya reminds very much of Hoya walliniana, but I never managed to get them in bloom at the same time before I sold my walliniana.
This hoya is definately best grown hanging. The leaves are dark green with visible veins and have some flecks. They are about 2-7 cm long and 1.5-3 cm wide. New leaves get a burgundy colour and if this hoya is grown in a lot of sun the foliage turn lovely red, some leaves get really red! A beautiful hoya even when it doesn't bloom.
The flowers are creamy white and the corona has a red center. They are ball-shaped and each flower is about 6 mm. You'll find 25-30 flowers in each umbel and they have a vague sweet fragrance, but don't produce any nectar from what I've seen... The flowers last about a week.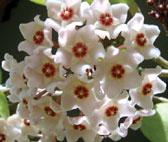 Read about how it all started
Why did I start collecting hoyas?

Private hoya links
Check out some of my favourite private hoya links from all over the world

Public hoya links
Here you will find public sites from all over the world, places to buy hoyas from etc.

Hoya forums
Here you will find links to different hoya forums on the internet.

Other great links
Here you will find links to search sites, garden sites, fun sites, crazy sites, and other "useful" sites.