This hoya comes from the island Tanna east of New Guinea. For many years it was sold as Hoya sp. Tanna, but in 2011 it was published as Hoya tannaensis.
It's a hoya best suitable for growing climbing. It twines around anything it gets hold of! This hoya can be tough to root, but once it's rooted it's a really fast growing hoya and it'll soon have a nice thick foliage. The light green leaves are rather pointy, about 5-9 cm long, 2-4 cm wide and have lowered center veins. The leaves tend to get a little yellow if it gets too much direct sunlight.
The flowers are a little cup shaped, but once in a while they are completely flat. The corolla is mostly white and gets pink under the corona, but a couple of times the flowers have been more or less all pink... The corona is pink with a lighter center. The size of the flower is about 2.5 cm and you'll find 10-20 flowers in each umbel. The flowers produce big drops of nectar but they don't fall off. The flowers last about one week and have no particular fragrance. If you stick your nose into the flowers you can sometimes detect a vague not too pleasant smell.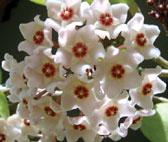 Read about how it all started
Why did I start collecting hoyas?

Private hoya links
Check out some of my favourite private hoya links from all over the world

Public hoya links
Here you will find public sites from all over the world, places to buy hoyas from etc.

Hoya forums
Here you will find links to different hoya forums on the internet.

Other great links
Here you will find links to search sites, garden sites, fun sites, crazy sites, and other "useful" sites.