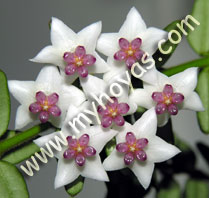 This hoya comes from Nepal (Himalaya) and India and it was published in 1994. It's also known as Hoya wee-bella, but the name dickasoniana was published first so that's the name that should be used...
This is a hoya best suited for growing hanging, but it can take up quite a lot of space since the vines grow quite long before they bend down from the weight. It can look a bit sprawling. The leaves are only 1-1.5 cm long and 5-7 mm wide and they are almost folded along the center vein. The medium/dark green leaves often comes three and three at the nodes, but also two and two.
The almost flat flowers have white corolla and pink corona. You'll find 6-8 flowers in an umbel and each flower measures about 2 cm in diameter and doesn't produce much nectar. The flowers last about a week, sometimes longer. The fragrance is nicely fresh, but it's not very strong so you'll have to stick your nose in them to sniff them!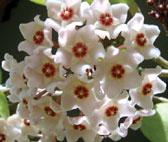 Read about how it all started
Why did I start collecting hoyas?

Private hoya links
Check out some of my favourite private hoya links from all over the world

Public hoya links
Here you will find public sites from all over the world, places to buy hoyas from etc.

Hoya forums
Here you will find links to different hoya forums on the internet.

Other great links
Here you will find links to search sites, garden sites, fun sites, crazy sites, and other "useful" sites.