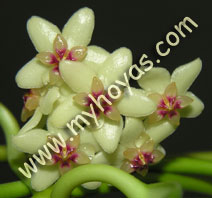 This hoya comes from Vanuatu and it was described in 2006. It reminds of Hoya diptera, but it has much nicer foliage! Hoya diptera IML 0071 (HSI NS1) and IML 0266 seem to be two varieties that were recently published as Hoya vanuatuensis (they keep their IML numbers).
It's an all green hoya best grown on a support, but it could be grown hanging too. Sometimes it gets rather big leaves, but... The leaves are light green and very shiny when young, but they darken and the surface gets dull as they mature. There are some flecks on the leaves and the veins are visible mostly on older leaves. The leaves are 5-10 cm long and 3-5 cm wide. It's a fast growing hoya that quickly gets a nice thick foliage. An easy hoya to grow!
The flowers, which are similar to the ones of Hoya diptera, have pale yellow/yellow corolla and darker yellow corona. Each flower is flat, about 2 cm and you'll find 10-20 flowers in an umbel. The fragrance is like Hoya diptera, i e vague but fresh if you stick your nose into them. They last about one week and they don't produce any nectar. A hoya that doesn't seem as bloom willing as Hoya diptera... Not here anyway!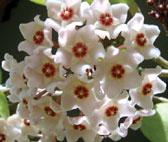 Read about how it all started
Why did I start collecting hoyas?

Private hoya links
Check out some of my favourite private hoya links from all over the world

Public hoya links
Here you will find public sites from all over the world, places to buy hoyas from etc.

Hoya forums
Here you will find links to different hoya forums on the internet.

Other great links
Here you will find links to search sites, garden sites, fun sites, crazy sites, and other "useful" sites.