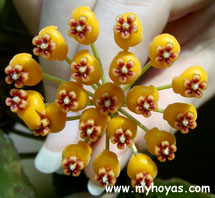 Hoya waymaniae comes from Borneo and it was described in 1995.
This is not the easiest hoya to grow... One minute it grows really well and the next the leaves turn soft and it looks like it could die any time! But, mostly it recovers again... If not, start over with a new cutting.
The leaves vary a lot in size, anything from 4-15 cm long and 3-7 cm wide. Younger leaves often have a shiny surface but that disappears the older the plant gets. The hard, slightly hairy leaves have a little wavy edges and a lot of flecks but no visible nerves. The leaves get red from growing in sunshine and this hoya is a hoya worth growing for the lovely foliage.
The flowers have orange corolla with beige and red corona. In the middle of the corona there are white "hairs", or what you should call them, sticking out... The corolla is revolute and from the side the corona almost looks like (sorry all you horse lovers!) horse teeth. The ball shaped, about 1 cm large flowers are really cool and well worth waiting for! You'll find 20-25 flowers in an umbel. The flowers last about one week, produce no nectar and have a vague indescribable fragrance.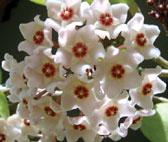 Read about how it all started
Why did I start collecting hoyas?

Private hoya links
Check out some of my favourite private hoya links from all over the world

Public hoya links
Here you will find public sites from all over the world, places to buy hoyas from etc.

Hoya forums
Here you will find links to different hoya forums on the internet.

Other great links
Here you will find links to search sites, garden sites, fun sites, crazy sites, and other "useful" sites.