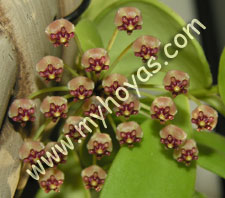 This hoya seems to be a variety of Hoya incurvula, which comes from Sulawesi and was described in 1916 by Schlechter (syn. Hoya andalensis Kloppenburg.).
This is a small hoya best grown hanging. The leaves are thick, light green and somewhat recurved. The hairy leaves are small, about 2-6 cm long and 1.5-3 cm wide and some leaves look like they have been folded along the leaf and then straightened out again. It's easy to root, but to get a nice plant you need to put several cuttings in the same pot.
The flowers are really small, only about 4 mm in diameter and ball-shaped. The corolla is brownish pink (sort of striped) and the corona is red with a yellow center. It produces some nectar and the fragrance can be described as caramel like. The flowers last only a few days and you'll find 20-30 flowers in an umbel.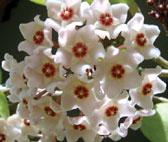 Read about how it all started
Why did I start collecting hoyas?

Private hoya links
Check out some of my favourite private hoya links from all over the world

Public hoya links
Here you will find public sites from all over the world, places to buy hoyas from etc.

Hoya forums
Here you will find links to different hoya forums on the internet.

Other great links
Here you will find links to search sites, garden sites, fun sites, crazy sites, and other "useful" sites.