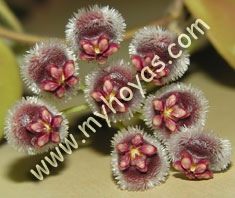 It seems to be hard to find information about this hoya, so it'll remain without details for now. Or perhaps anyone knows more about it? If it has gotten any other name? Where it was found?
It's a hoya which seems easiest grown hanging. The leaves are stiff, somewhat recurved and have few spots. They are a little hairy and get a lovely dark red colour if it's grown in bright light / sunshine. The under side gets lighter red in the sun. The leaves are rather small, about 2.5-5 cm long and 1.5-3 cm wide. It's easy to root, but you need to pot several cuttings in the same pot to get a nice plant and it doesn't grow too fast...
The flowers are almost ball shaped, very hairy, dark red and the are about 1 cm in diameter. You'll find 5-15 flowers in an umbel. The flowers only last a couple of days and they have a very fresh fragrance which mostly remind of fresh cut grass. They produce some nectar.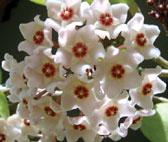 Read about how it all started
Why did I start collecting hoyas?

Private hoya links
Check out some of my favourite private hoya links from all over the world

Public hoya links
Here you will find public sites from all over the world, places to buy hoyas from etc.

Hoya forums
Here you will find links to different hoya forums on the internet.

Other great links
Here you will find links to search sites, garden sites, fun sites, crazy sites, and other "useful" sites.