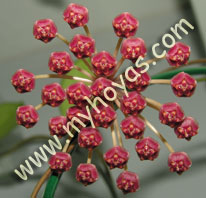 Judging from the name I would guess this hoya comes from Irian Jaya and there is a place called that in Indonesia.
The leaves are medium green, hard and the center vein is often lighter and sometimes a little raised. New leaves get a lovely red colour when young, sometimes really dark red. Very few flecks or no flecks at all, but the foliage is really nice anyway. The leaves are 4-8 cm long and 1.5-3 cm wide and they can vary from really narrow to almost same size length and width.
The flowers are ball shaped and about 8 mm in diameter. They have red/dark red corolla and corona, produce some nectar, smells like butter scotch and they last about 4-5 days. In an umbel you can find 20-30 flowers. They remind a lot of Hoya kentiana, but kentiana is more purple than red as the Irian Jaya... It has happened that my Irian Jaya has had flowers that were more purple.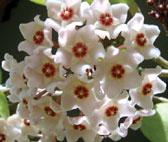 Read about how it all started
Why did I start collecting hoyas?

Private hoya links
Check out some of my favourite private hoya links from all over the world

Public hoya links
Here you will find public sites from all over the world, places to buy hoyas from etc.

Hoya forums
Here you will find links to different hoya forums on the internet.

Other great links
Here you will find links to search sites, garden sites, fun sites, crazy sites, and other "useful" sites.