Hoya 'Sunrise' is a cross between Hoya lacunosa ssp. pallidiflora and Hoya obscura, hybridized by Michael Miyashiro in 1992. The leaves really do look like a cross between these two hoyas and the foliage is absolutely gorgeous! Hoya 'Sunrise' was published in Asclepios 91/2004.
The smooth leaves are rather dark green with visible veins and some flecks. They are about 5-9 cm long and 2-3 cm wide. Some leaves look more like lacunosa and some more like obscura and the mix of all this and the fact that the leaves are bigger than lacunosa but smaller than obscura makes this a really lovely hoya.
The flowers are also a combination of lacunosa and obscura. They are white and revolute and just like obscura they turn pink when grown in bright light and/or sunshine. Each flower is about 5 mm and you'll find 10-20 flowers in each umbel. The flowers have a very nice perfume like fragrance and they last about a week.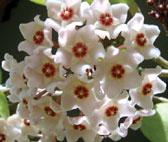 Read about how it all started
Why did I start collecting hoyas?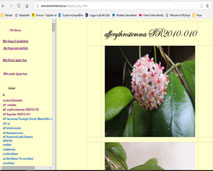 Private hoya links
Check out some of my favourite private hoya links from all over the world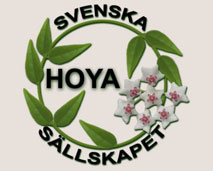 Public hoya links
Here you will find public sites from all over the world, places to buy hoyas from etc.

Hoya forums
Here you will find links to different hoya forums on the internet.

Other great links
Here you will find links to search sites, garden sites, fun sites, crazy sites, and other "useful" sites.