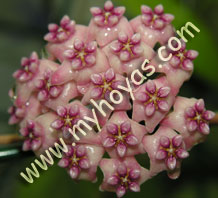 This hoya is a natural cross which "happened" in Homchun Nursery, Samut Sakhorn Province in Thailand. Apodagis.com calls this hoya "Sweet Scent" in honour of the nursery's name "Homchun" which means nice perfume.
The parents of this cross (hybrid) are not known, but they suspect one of them to be Hoya parasitica. The other parent could be diversifolia, meliflua, excavata or obovata. "Sweet Scent" has quite clear sap. The leaves are said to remind of diversifolia, but in my opinion they are much nicer and not as oblong. The fragrance has been described as a weak parasitica. These leaves are 7-10 cm long and 5-7 cm wide, have some flecks and visible nerves. Really nice foliage!
The reflexed flowers have sort of creamy corolla with pink tips and the corona is pink with lighter tips. Sometimes the flowers are more pink and sometimes less, probably due to access of light. The flowers are about 1 cm in diameter and you'll find 15-25 flowers in each umbel. The fragrance is, like the name suggests, sweet and actually sort of fresh at the same time. This is a hoya that produces a lot of nectar and the flowers last 4-5 days.
To view more photos and read about my
Hoya "Sweet Scent", click here: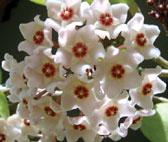 Read about how it all started
Why did I start collecting hoyas?

Private hoya links
Check out some of my favourite private hoya links from all over the world

Public hoya links
Here you will find public sites from all over the world, places to buy hoyas from etc.

Hoya forums
Here you will find links to different hoya forums on the internet.

Other great links
Here you will find links to search sites, garden sites, fun sites, crazy sites, and other "useful" sites.