I bought this hoya as a rather large rooted plant in April 2011. I didn't intend to buy it, but you couldn't help but notice the lovely red leaves... so it came home with me. I put it on a rather large support and it didn't take long before it had two new vines on the way! I have read two different opinions about this hoya and one says it's a tricky hoya and another says it's an easy hoya for beginners! There are more than one Hoya scortechinii...

My plant didn't do too well in the summer of 2011 so I cut it down and rerooted it. Put it in my hoya room later that fall and it seems to like it there since it has bloomed three times under the grow lights. The first time was in May 2012 and it's always exciting with the first timers, but this one was a really nice surprise. The sort of round flowers are so nice and the fragrance was wunderful and fresh though I had to stick my nose in the flowers to detect it!

To get back to Hoya scortechinii, click here:

To view any of the pictures on this page bigger, click on them and they will open up in new windows.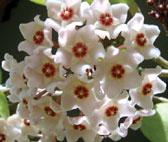 Read about how it all started
Why did I start collecting hoyas?

Private hoya links
Check out some of my favourite private hoya links from all over the world

Public hoya links
Here you will find public sites from all over the world, places to buy hoyas from etc.

Hoya forums
Here you will find links to different hoya forums on the internet.

Other great links
Here you will find links to search sites, garden sites, fun sites, crazy sites, and other "useful" sites.